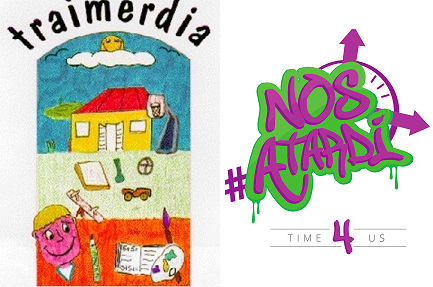 Description
Percura pa duna un cuido y guia di calidad despues di ora di scol na muchanan y hobenan
Alavez duna e mayor(nan) of voogd un mihor chens pa participa den tur tranquilidad na e proceso laboral.
Purpose of the organization
Bureau Traimerdia ta ofrece cuido y guia di calidad na muchanan di 4 pa 12 aña y hobenan di 12 – 15 aña. Traimerdia ta pa nos muchanan y Nos Atardi ta pa e hobenan.
Di e manera aki nos ta contribui na e desaroyo di muchanan y hobenan feliz y saludabel pa nos comunidad.
Services/Activities
Bureau Traimerdia biedt naschoolse opvang voor kinderen en jongeren van hoge kwaliteit met als doel de ontwikkeling van kinderen en jongeren te bevorderen door ruimte te geven om huiswerk te maken, het volgen van gerichte activiteiten op het gebied van muziek, beweging en expressie, crafts and creativity en het doen community service.
Volunteer Jobs
Affiliated with
All Star After school care in USA
Alliance after schoolcare USA
Opening hours

8.00 – 3.00
Contact information organization

582 8794

582 8796

583 6506

wester.j@bureau-traimerdia.com

oduber.g@bureau-traimerdia.com

www.bureautraimerdia.com

https://www.facebook.com/NSObtm/?fref=ts

Cumana 69, Oranjestad West/Oost
Contact person(s)

Mr Gregory Oduber, Wnd Directeur

582 8794

oduber.g@bureau-traimerdia.com

Mrs Wester Judeira, P&O

582 8794

wester.j@bureau-traimerdia.com
Additional Information
Application procedure
Melden bij Bureau Traimerdia
inschrijfformulier invullen
AZV kaart tonen
bewijs van inschrijving bij Burgelijke Stand geven
Contribution dues
Bij Traimerdia betalen de ouders en verzorgers een contributie van afl. 35,- per jaar voor de verzekering en activiteiten. Ook wordt er een ouderlijke bijdrage gevraagd naar inkomen. Bij Nos Atardi wordt voorlopig een bijdrage gevraagd van afl. 50,- (onder voorbehoud).
Related organizations