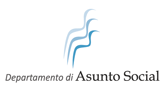 Description
The Department of Social Affairs has two mandates:
Direct mandate: "LVMZ" National Ordinance on Social Care; welfare, legal aid lawyers, social guidance.
Indirect mandate: "SVVAN" Subsidy (Institutions of Public Utility) Ordinance; foundations.
Purpose of the organization
To support and strengthen the socioeconomic position and well-being of vulnerable citizens, families and specific risk groups in the Aruban society.
Services/Activities
Financial support/welfare
Social guidance
Legal aid lawyers
Life and family
Opening hours

-
Contact information organization

528-1100

588-6657

dsz@setarnet.aw

http://dsz.org.aw

Caya Mario E. Harms 11, Oranjestad West/Oost
Contact person(s)

Mrs Jesseline Soto Garcia-Kelly, Directiesecretaresse

528-1100

jesseline.kelly@dsz.gov.aw