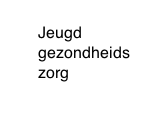 Description
Health care organization, works with children, youth, parents, schools and other organizations
Targetgroup is 0-18 years
JGZ falls under the Department of Public Health and our objective is to monitor the health of the youth of Aruba
Purpose of the organization
The core business of the JGZ is the promotion and maintenance of mental and physical health and the well being of the youth of Aruba.
Services/Activities
Vaccines
Onderzoek en Support to parents, voorlichting, begeleiding aan jeugdigen, ouders en scholen
Opening hours

7.30 – 16.30
Contact information organization

5224 200

5224 294

583 5979

joan.vanheyningen@aruba.gov.aw

www.despa.gov.aw

van Leeuwenhoekstraat 16, Oranjestad West/Oost
Contact person(s)

Mrs Joan van Heyningen, Doctor (Jeugdarts)

5224 283

joan.vanheyningen@aruba.gov.aw

Jan Hubert, Doctor (Jeugdarts)

522-4286

jan.hubert@aruba.gov.aw
Additional Information
Application procedure
Every child registered by the Census falls under the care of this health service. One can contact this governmental service by phone, by mail or pass personally; is heel laagdrempelig
Additional remarks
Per 1-9-1939 vond de officiele instelling van een schoolartsendienst plaats op Aruba. In 1975 kregen de schoolartsen ook toestemming om op het consultatiebureau's van het Wit Gele kruis te werken. In 1983 kwam er een nieuwe regeling waarbij de schoolartsen ook gedelegeerd werden aan het Wit Gele Kruis. Hun formele werkgever is nog altijd de Gezondheidsdienst van Aruba.