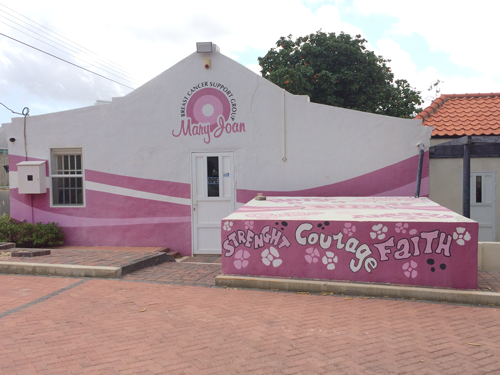 Description
Mary Joan Foundation was established in 2007 and offers support to all women who are confronted with breast cancer as well as their families and friends. Many Survivors feel called upon to help other breast cancer patients and the Mary Joan Foundation brings survivors and patients together.
The Mary Joan foundation does not only provide emotional support to patients and their families but also serves the community by raising awareness and by providing information about breast cancer. The foundation is trying to reach as many people as possible with lectures, seminars, meetings, newspaper articles, radio and television programs, get-togethers and other activities. The Mary Joan Breast Cancer Support Group meets government officials, members of the medical community, hospital staff and other foundations to help improve the care for breast cancer patients on Aruba.
Since November 2009 the foundation opened its own center in Dakota, where everyone is welcome. This center is the place to find information about everything that has to do with breast cancer for all interested. Early detection is vital. Women can protect themselves through mammograms, yearly check-up and monthly examinations. A healthy lifestyle in general is also a very important.
No woman in Aruba needs to face the diagnosis and treatment of breast cancer alone.
Purpose of the organization
Creating and easily accessible, holistic and integrated, patient and survivor friendly, care system for breast cancer in Aruba.
Services/Activities
1. Psychosocial Guidance
2. Support group
3. Yoga
4. Fitness
5. Handcraft
6. Workshops
7. Lectures
8. Social activities
Opening hours

8:00 to 16:30 PM

Contact information organization

588-9999

588-9966

maryjoanfoundation@setarnet.aw

http://mjf.org.aw

http://www.maryjoanfoundation.aw/

Sabana Blanco 8, Dakota, Oranjestad West/Oost
Contact person(s)

Consuela Cameron, Social Worker

588-9999

maryjoanfoundation@setarnet.aw
Additional Information
KVK number
S940
Application procedure
Client
Once an intake form is administrated he or she becomes a client of Mary Joan Foundation and contacts can be made from the following options to get an appointment.
a. From the moment they have any symptoms or suspicion of breast cancer they can call/visit MJF Center to receive information on the procedure to follow to get examined and/or treated.
b. Once a person is diagnosed with breast cancer they can be referred to MJF by their house physician or specialist for support psychosocial guidance at MJF.
c. The patients or family members can call, visit or e-mail MJF Center
Volunteer
Make an appointment at the MJF Center though, e-mail, call or visit. The person interested will be offered general information of MJF, information of voluntary work at MJF.